ICPET 2018 | July 4-6, 2018 | Lille, France

2018 International Conference on Power and Energy Technology was held in Lille, France on July 4-6, 2018, which is to proclaim knowledge and share new thoughts among the professionals, industrialists and students from research areas of Power and Energy Technology. We are pleased to have audience from countries and regions including Algeria, China, Malta, South Korea, Russia, Morocco, Germany, Ukraine, Ghana, Pakistan, India, Thailand, Iraq, etc.
Presentation is divided into 4 chapters, the papers provide a wide spectrum of researches on wide range of Electrical Equipment Design and Analysis, Electronic and Electrical Engineering, Modern Electronic System & Measurement and Control Technology, Solar Energy Utilization and Energy Engineering. One best presentation will be selected from each parallel session, evaluated from: Originality, Applicability, Technical Merit, Visual Aids, and English Delivery.
We would like to express our appreciation for the work of the conference chairs, local chair, Technical Program Chairs, Local Organizing Committee, session chairs, Technical Committee members who dedicated to make the conference run smoothly and properly. Special thanks also are given to all delegates, who showing the high level of international interest in the subject. It is exactly your participation that makes the conference to its success.
Publication of ICPET2018-Special Issue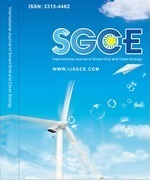 Submissions will be peer-reviewed and evaluated based on originality, relevance to conference, contributions, and presentation. Accepted full papers of ICPET 2018 will be published in a special issue of International Journal of Smart Grid and Clean Energy.
ISSN: 2315-4462 (Print); ISSN: 2373-3594 (Online)
DOI: 10.12720/sgce
Abstracting/Indexing: EI (INSPEC, IET), DOAJ, Ulrich's Periodicals Directory, Google Scholar, Crossref, Scopus.
Published Issues > 2019 > Vol. 8, No. 1, January 2019 | Indexed by EI & Scopus
Photo Gallery of ICPET2018

Session Group Photos
Best Presentations